Posted on: 3 December 2010
By:

Connor Gibson
In a twisted case of actualized déjà vu, Chevron spilled 100 barrels of oil into the Red Butte Creek area of Salt Lake City, narrowly missing the waterways...
...waterways that were gifted about 800 barrels of spilled crude from the exact same pipeline last June.  The community is still busy cleaning up the first mess, and Mayor Ralph Becker has expressed his own "outrage."  While Mayor Becker has supposedly been a bit soft with Chevron even since June's spill, he has now explicitly stated what people around the world realize: "We cannot trust Chevron."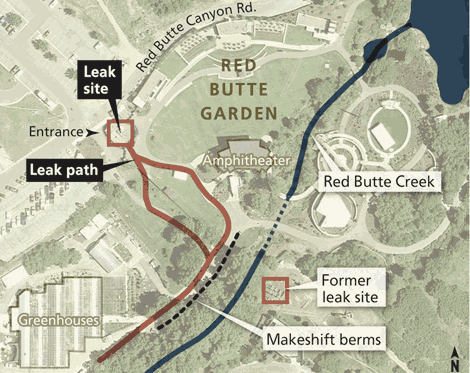 Chevron recently paid over $400,000 for the June spill--a negligable fee compared to their $13.7 billion profit since quarter three of 2010.  The new spill took place a mere 100 yards from June's disaster, stopping just 50 feet short of Red Butte Creek.
For a barrage of ironic and contradictory statements from one of Chevron's representatives, check out the Salt Lake Tribune article covering the [new] spill.
(Photo courtesy of the Salt Lake Tribune)