Posted on: 12 December 2012
By:

Connor Gibson
Freshly released today: a report by the Checks & Balances Project examining how often top U.S. newspapers fail to attribute fossil fuel ties to organizations or people that appear news articles to promote fossil fuels, demonize clean energy or promote delay of climate change solutions. Tracking ten of the top fossil fuel front groups in 58 leading U.S. newspapers, the new report finds over 1,000 instances where ties to or funding from coal, oil and gas interests was not disclosed when including a shill group or quoting one of its "experts."
Only 6% of the time were fossil fuel ties disclosed when these top 58 newspapers reported on the ten fossil fuel front groups examined in the study. These groups wind up in the paper, on average, at least once every other day. In the five-year window the report uses, the ten front groups got at least $16 million from coal, oil and gas interests.
According to Checks & Balances:
These groups, and their proponents, have been quoted on average every other day for the past five years in 60 of the largest mainstream newspapers and publications. Despite having received millions of dollars from fossil fuel interests, such as ExxonMobil and Koch Industries, these groups' financial ties to the fossil fuel industry are rarely mentioned.
Deniers are already taking notice--see Steven Milloy's complaints here. Steve Milloy has been a central climate denier, who was paid to shill for tobacco company Phillip Morris and oil giant Exxon before work for the Cato Institute (see below) and starting the climate denial website "JunkScience."
The ten groups that Checks & Balances examined are well-established fossil fuel apologists. Here is a roundup of watchdog sites with more information on each of these organizations' historic funding from and work for fossil fuel interests like ExxonMobil and Koch Industries (2006-2010 funding figures compiled in the Checks & Balances Project report):
American Enterprise Institute (AEI): $1.675 million from fossil fuel interests (2006-2010)
Competitive Enterprise Institute (CEI): $88,279 from fossil fuel interests (2006-2010)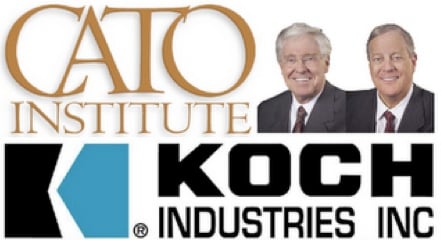 Cato Institute: $1.385 million from Koch/Exxon (2006-2010)
George C. Marshall Institute: $675,000 from fossil fuel interests (2006-2010)
Heartland Institute: $115,000 from Exxon (2006-2010, see also $25,000 grant from Charles Koch in 2011)
Heritage Foundation: $2.523 million from fossil fuel interests (2006-2010)
Hudson Institute: $75,000 from fossil fuel interests (2006-2010)
Institute for Energy Research (IER): $310,000 from fossil fuel interests (2006-2010)
Manhattan Institute: $1.38 million from fossil fuel interests (2006-2010)
Mercatus Center: $8.06 million from fossil fuel interest (2006-2010)