Posted on: 30 March 2012
By:

Connor Gibson
PolluterWatch: Greenpeace Investigates Heartland Institute Leaked Documents -- click to see investigation and ongoing updates.
UPDATE: After dropping support for ALEC, Pepsi distances itself from the Heartland Institute's climate denial.
Perhaps the most outrageous revelation of "Denialgate," the leak of internal Heartland Institute budget and fundraising documents detailing their 2012 work plan to obstruct global warming policy, is a project to develop school curricula to teach K-12 students that there is doubt over the causes and implications of global warming.
What hasn't been reported is the complementary role of the American Legislative Exchange Council (ALEC), which has peddled laws written by corporate lobbyists through state legislatures that make it easy for its dirty energy members, such as Exxon, Koch Industries and Peabody coal, to influence how climate science is presented to students. The so-called "Environmental Literacy Improvement Act," which has been introduced in seven states and became law in at least three, would establish a state-level council to oversee all scientific material presented to students, allowing companies to smother classroom science with K street politics. This council would notably exclude anyone with environmental science credentials, instead composing itself in the following proportions:
Basically, it ensures that climatology will be underrepresented. Note that environmental science is interdisciplinary, open to a variety of natural science expertise in order to study complex natural systems that cannot be confined to a single topic of study. See our annotated version of the ALEC bill showing how ALEC's language can be used to peddle global warming denial in schools.
So where did this bill come from? We know that ALEC members include not only the Heartland Institute, but a who's who of dirty energy interests that stand to make money by denying climate change. More specifically, there appears to be a key industry operative who oversaw development of the ALEC bill. Her name is Sandy Liddy Bourne, the daughter of convicted Watergate criminal G. Gordon Liddy.
Alexandra "Sandy" Liddy Bourne runs an oil industry front group called the American Energy Freedom Center with former ExxonMobil
lobbyist Randy Randol. Bourne is a longtime affiliate of both the Heartland Institute and ALEC, currently formerly a Heartland senior fellow for environmental issues and formerly Heartland's vice president for policy and strategy.  Prior to joining the Heartland Institute, Sandy Liddy Bourne was ALEC's Director of the Energy, Environment, Natural Resources and Agriculture Task Force for the from 1999-2004, before being promoted to Director of Legislation and Policy, where she oversaw all of ALEC's task forces and helped boost state enactment of ALEC's corporate bills from 11 percent to 20 percent. In Bourne's time directing ALEC's environmental task force, the "Environmental Literacy Improvement Act" was created and approved by ALEC's board in June, 2000.
While this ALEC bill was finalized, ALEC's Private Enterprise board chairman was Mike Morgan of Koch Industries. The Heartland Institute still promotes ALEC's "Environmental Literacy Improvement Act" on its website to this day.
Confused? Check out all the key players in this interactive ExxonSecrets map!
Heartland Payments to Federal Employee for Unscientific Climate Lesson Plan
The Heartland Institute repeatedly has shown it doesn't hold the scientific method in particularly high regard, even if their climate denial conferences are run under the banner "Restoring the Scientific Method." According to its 2012 fundraising document, Heartland is paying a US Department of Energy (DOE) official named David Wojick $5,000 a pop for modules teaching high school students that "whether humans are changing the climate is a major scientific controversy."
It's not. Regardless of whether David Wojick simply denies this reality or if he drank the Koch Industries Kool Aid, his climate credibility is zero.
The National Academy of Sciences found that 97% of actual climate researchers understand that global warming is happening and is primarily caused by humans burning fossil fuels. However, most K-12 students don't read the Proceedings of the National Academy of Sciences. I certainly didn't--I relied upon my teachers to teach science with unbiased integrity.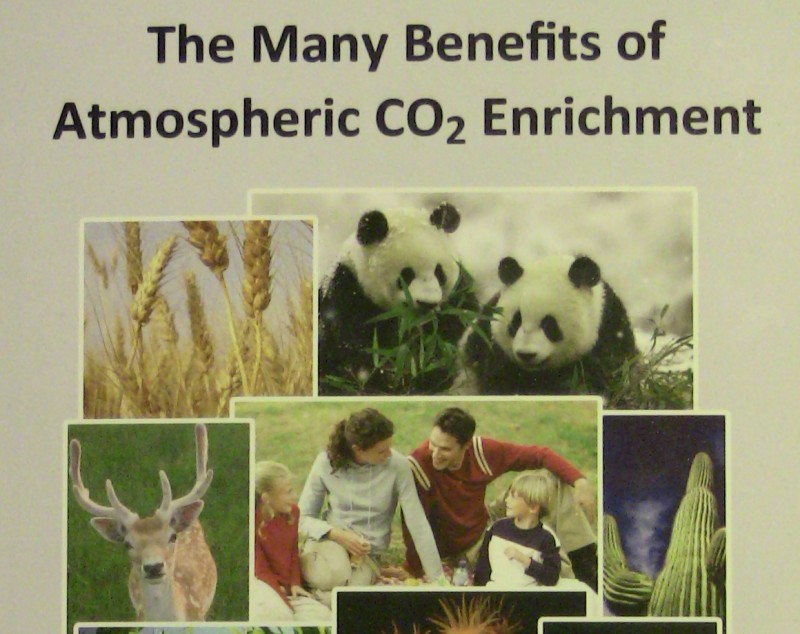 Wojick has expertise not in climate science, but the philosophy of science. He has done contract work for the coal industry through the "Greening Earth Society," a fairy tale organization established to promote the absurd idea that more CO2 in our atmosphere, such as from burning coal and other fossil fuels, is unconditionally good for our planet. This fallacy is promoted by other notable non-experts, such as oil billionaire David Koch and junk scientist Craig Idso, who produced propaganda films for the Greening Earth Society (a coal industry front group). Idso presented "The Many Atmospheric Benefits of CO2" to ALEC's Energy and Environment task force at their August, 2011 meeting in New Orleans, where he told ALEC insiders that we "should let CO2 rise unrestricted, without government intervention" since "CO2 is definitely not a pollutant."
The coal industry clearly wishes this were true, Mr. Idso.
In addition to accepting fossil fuel propaganda money alongside Mr. Wojick at the Greening Earth Society, Craig Idso also consults for the Heartland Institute. Idso's $140,000 contract with Heartland this year is to coordinate the anti-scientific "Climate Change Reconsidered" reports, an admittedly "political" project that includes contracts to two federal workers and multiple university faculty members. These payments US Interior Department (DOI) contractor Indur Goklany, who is under investigation by the Interior Department's Inspector General's office at the request of US Representative Raul Grijalva of New Mexico.
While the Heartland Institute is doing its best to make this unraveling scandal disappear, mainly by vilifying scientist Peter Gleick for embarrassing the Institute, Greenpeace is pushing for more. We continue to seek answers from federal bodies and universities whose employees are taking money from the Heartland Institute to attack science and disrupt the democratic process on behalf of tobacco companies, industrial giants and billionaire ideologues like the Koch brothers. Visit PolluterWatch for ongoing results of Greenpeace's investigation of the Heartland Institute leaked documents.
Key References:
Steve Horn, "ALEC Model Bill Behind Push To Require Climate Denial Instruction In Schools," DeSmogBlog, Jan. 26, 2012.
Brad Johnson, "INTERNAL DOCUMENTS: The Secret, Corporate-Funded Plan To Teach Children That Climate Change Is A Hoax" ThinkProgress Green, Feb. 14, 2012.
Brad Plumer, "Will your kids be taught that climate change is a hoax?" Washington Post Wonkblog, Feb. 23, 2012.
Katherine Bagley, "Science Educators Troubled by Heartland's Climate Curriculum and Author's Credentials," InsideClimate News, Mar. 15, 2012.
Evan Lehmann, "Heartland Institute is looking at 'every place' in grades K-12 for climate debate," ClimateWire, E&E Publishing, Mar. 15, 2012.