BP Seeks to Resume Drilling in Gulf of Mexico Long Before Situtation is Made "Right" [VIDEOS]
Posted on: 4 April 2011
By:

Connor Gibson
Less than a year since BP's Deepwater Horizon offshore drilling rig exploded into flame, killed eleven rig employees and initiated an uncontrolled oil gusher that blasted over four million gallons of crude oil into the Gulf of Mexico, the London-based oil giant is asking for more.
The Gulf ecosystem is still reeling from the dramatic oil and gas pollution that created underwater plumes that spanned for miles and effectively turned the ocean floor into a "graveyard." While former BP CEO Tony Hayward promised his company would "make this right," 300,000 Gulf residents still await their share of the $20 billion BP set aside for compensation.
Residents continue to worry about the quality of Gulf seafood and their own health:
As put by Greenpeace Research Director Kert Davies in an interview with ABC (above), "This is not even a year since the worst environmental disaster this country has ever seen and the culprit is being led right back to the scene of the crime and being given the keys."
Meanwhile, the offshore drilling contractor that owned the Deepwater Horizon rig, Transocean, is now apologizing for handing out absurd bonuses to executives for safety in 2010, including a $200,000 salary increase to CEO Steven L. Newman. Newman made $5,374,687 in 2009.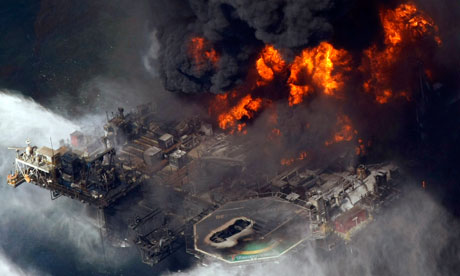 The Department of the Interior has challenged Transocean's safety claims, and has stressed that no agreement to resume drilling has been made with BP, although the company continued other operations throughout 2010 and into 2011, as had Exxon Mobil and Chevron. Royal Dutch Shell recently obtained permission for a new drilling project off the coast of Louisiana.
Photo Credit: the Guardian